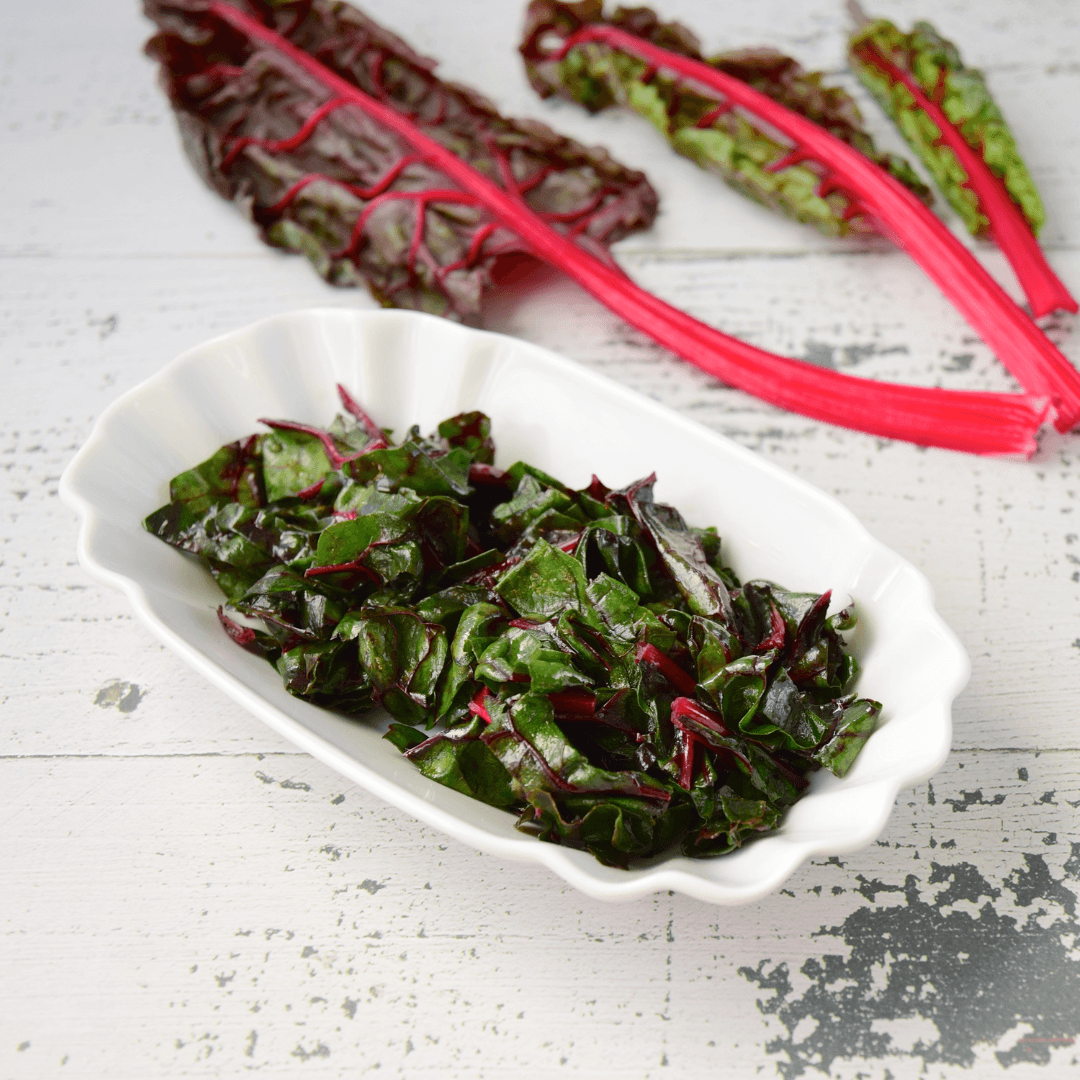 Bonnie, one of our loyal Lincoln Food Market volunteers, brought us a bounty of fresh swiss chard from her garden. She also brought along a favorite recipe and all the items needed to create it 8 times! Our volunteer crew prepped 8 recipe bundles for our food market clients to enjoy as an addition to their food market order. For many of them, it's their first swiss chard experience (and, perhaps, you too!).
Did you know that Swiss chard is a nutritional powerhouse? This green leafy vegetable is low in calories and high in magnesium, iron, potassium, and vitamins A, C, and K. It's also an excellent source of many antioxidants, including beta carotene and flavonoids, which may help prevent health conditions such as lung cancer and heart disease. Its taste is often compared to spinach and has a slightly sweet, milder flavor when cooked. In this recipe, swiss chard is sautéed with garlic and olive oil for an easy, healthy, and delicious side dish.
---
Garlic Sautéed Swiss Chard
SERVINGS: 4 servings | PREP TIME: 10 mins | COOK TIME: 8 mins  | TOTAL TIME: 18 mins
CALORIES: 56kcal
AUTHOR: Lisa Bryan
Ingredients
1 bunch of swiss chard approx 10 stems

1 tbsp olive oil

3 cloves garlic minced

1/4 cup water

sea salt to taste
Instructions
Wash and clean the chard leaves. Depending on your preference, you can remove the stems at the bottom of the leaves or keep them and slice them up. Roll the leaves into a cigar-like shape and slice across horizontally into one-inch wide strips.

Heat the olive oil in a sauté pan on medium heat. Add the minced garlic and sauté for one minute.

Add the water and chard stems and cook for 1-2 minutes, until softened. Add the chard leaves and cook for an additional 4-5 minutes. The chard leaves will wilt down.

Before serving, sprinkle with sea salt.
CALORIES: 56kcal | CARBOHYDRATES: 5.2g | PROTEIN: 2.3g | FAT: 3.6g 
SATURATED FAT: 0.5g | SODIUM: 256.1mg | FIBER: 2g | SUGAR: 1.3g
(Recipe source: https://downshiftology.com/recipes/garlic-sauteed-swiss-chard/)