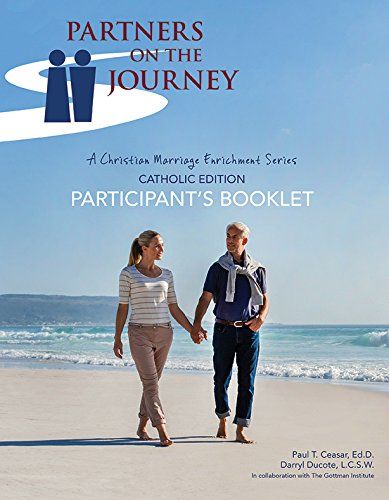 Take the next step on the journey to enriching your marriage!
The Partners on the Journey marriage enrichment series combines a Catholic theology of marriage with the findings from scientific research to offer married couples both inspiration and practical help. The inspiration comes from the riches of the Catholic faith that gives meaning to marriage as a Vocation, a Covenant and a Sacrament. The practical help comes from over 40 years of research by the Gottman Institute that identifies the factors that predict divorce as well as the factors the predict success in marriage. Faith and science are woven together in this series through the use of video presentations, couples exercises and prayer, to help couples achieve a more meaningful, stable and satisfying relationship.
---
If paying by credit card (preferred method):
You will receive an email with a private link to the accompanying videos on our agency YouTube channel and we will mail your workbook to you.
---
If paying by cash/check, mail your payment to:
PARTNERS ON THE JOURNEY

c/o Immaculate Heart of Mary Counseling Center

3700 Sheridan Blvd. Ste 1

Lincoln NE 68506
Please make your check payable to Catholic Social Services and put "PARTNERS ON THE JOURNEY" in the memo field.
After we receive and process your payment, we will mail your workbook to you along with the private link to the video on our agency Youtube channel.