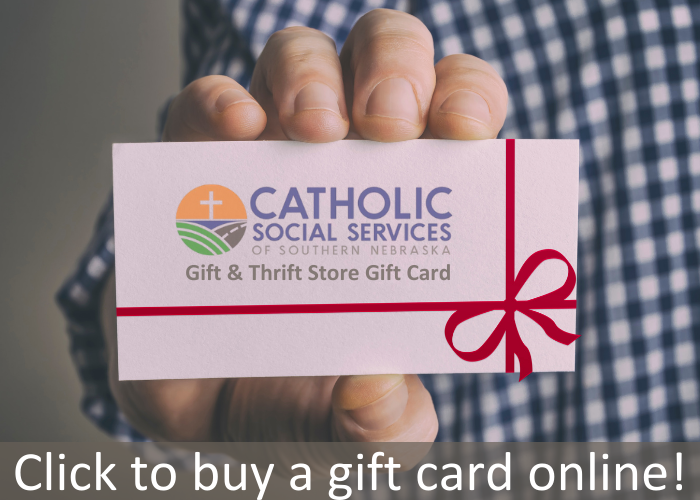 Auburn: St. Francis Gift & Thrift Store
Auburn donation guidelines
Drop-off service:
Donations are accepted during open store hours at the overhead garage doors behind the store accessible via alley. 
Please let an associate know you have arrived by ringing the doorbell, stopping in the store, or calling 402-274-4818.  
We are unable to help unload, so please bring extra help for heavy and large items.
We do NOT provide pickup service or delivery. 
For large furniture donations, please fill out a furniture donation form (click here) and our manager will contact you. Or, call ahead to discuss items with staff and arrange a time for drop-off. 
---
We Accept:
Backpacks, Purses, & Tote Bags (free of stains, tears, & heavy use)
Bedding, Linens, Rugs, & Towels (free of stains, tears, & heavy use)
Books, CDs, & DVDs (NO textbooks, encyclopedias, or outdated reference books)
Furniture (free of holes, gouges, tears, stains, pet hair, odors, & broken parts)
Glassware & Drinkware (free from hard water stains)
Home & Seasonal Décor
Home Entertainment Electronic Items: Flat Screens, DVD Players, & Stereos
Jewelry & Sunglasses
Kitchen Bakeware, Cookware, & Utensils (no scratched or flaking Teflon coatings)
Lamps
Power Tools- Useable Hand & Corded (no rechargeable battery-powered tools)
Religious Items
Small Appliances
Inquire about items not shown above.
We DO NOT Accept:
Anything needing repair, in poor condition and/or extremely soiled
Appliances (large and/or built-in)
Bakeware & Cookware that is scratched or damaged
Sewing Machines (cabinet style)
Clothing, Belts, & Shoes
Computers, Console/Box-Type Televisions, & Old Electronics
Car Seats & Cribs
Desks (larger than a roll-top or small computer desk)
Encyclopedias & Text Books
Exercise Equipment (large)
Home Improvement Materials (such as used carpeting & flooring, paint, light fixtures, drywall, doors, countertops, cabinets, medicine cabinets, etc.)
Household & Garden Chemicals
Mattresses, Box Springs, & Frames
Medical/Home Health Items
Personal Grooming/Hygiene Supplies (used)
Pianos & Organs
Toys
Used Venetian Blinds, Mini-blinds, & Window Shades
Vinyl Records, Cassette Tapes, 8-Track Tapes, VHS
Inquire about items not shown above.