CSS Holiday Programs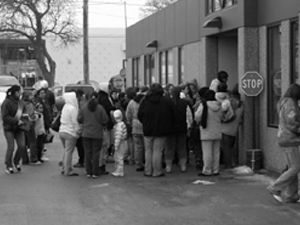 The St. Nicholas Toy ShoppeWe work with coordinators at participating parishes to randomly select the age and gender of the child and a toy for children twelve and younger. The toys received are taken to the St. Nicholas Toy Shoppe in Lincoln. Customers may pick out one new toy and one stocking-stuffer for each of their children. Last year, the St. Nicholas Toy Shoppe provided toys for over 3,000 children.

Hastings Good Angel Trees ProgramIn Hastings, St. Cecilia and St. Michael parishes and in Doniphan, St. Ann parish provide gifts and food baskets to needy families in the area. We meet with families to determine needs and wishes for Christmas. The items identified are put on an Angel Tree at these churches for parishioners to purchase. Families applying also receive a food basket either from the Good Angel Tree Program or the CSS Food Pantry.

KFOR Operation Santa ClausFor years we have participated in Lincoln radio station KFOR's Operation Santa Claus. Clients fill out applications at our office requesting specific items for their children. The requests are sent to KFOR, who place them on area "Giving Trees." The donated presents are delivered to our office, where clients can pick them up.

Adopt-A-FamilyIndividuals, families and groups can adopt a family. Mostly gifts are purchased, but a food basket can be given. The maximum value of each gift is $25 per person.